May 14th, 2012 by L. James Everett, III.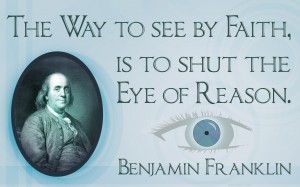 In Christian history, there have been at least two ways of understanding the definition of Faith and Reason and their relationship to one another. One is correct, the other is massively confused. Unfortunately, the confused version is popular.
The confused version is the following: Faith is a pure act of will that is radically opposed to any kind of evidence. The more evidence, the less room for Faith. The more reason one has for a course of action or for holding a belief, the less doing that action or holding that belief  is an act of Faith. Also, Faith is, on this view, sort of a virtuous thing (except it doesn't have to be a habit). It is a pure act of will that is praiseworthy–a pure act of will without or against reason. The act of will may be an act of intellectual judgment, with no reason or evidence to support that verdict. It may even GO AGAINST evidence or reason, which gets you even more Super Mario points in Heaven.
So, on this popular view, the less evidence, the better. The more room for Faith. On this view, Faith and Reason shall never be friends.
Being ignorant works, however. This view says ignorance leaves room for Faith. Without Faith, it is impossible to please God. Therefore, God would want you to have as little evidence as possible for both (1) your actions, and (2) your beliefs. You have to will yourself to believe. You are obligated by God to pull yourself up by your own belief-bootstraps–without the crutch of evidence, reason, scholarship, good arguments, rational thought, etc.  In other words, God have mercy on our sinful souls if we have any shred of evidence that we are sinful!
In one sense, it's rather hard to argue against the view, because on it's own account, any argument you give against it is of no use. By it's own standards, it ignores arguments. Ignoring arguments and reason is the key to being a spectacularly ignorant person.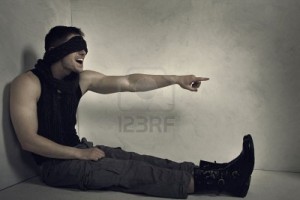 Usually what follows is that the successfully ignorant person–the person thinks this is authentic Faith–thinks of herself as virtuous, and so she gets puffed up and arrogant. A puffed up, arrogant, ignorant person of Faith, who looks down on us poor, petty people who need, want, value, cherish reason, argument, scholarship, evidence. You poor saps. If you only had more will power, like me, this person seems to say. If she is a Calvinist, she will give God all the credit for what she did, and in doing so, will achieve, in her self-awarenes, complete and total absolution from what would otherwise be the sin of being stupid, foolish, unwise, and arrogant.
She will quote (selectively) passages from the Bible that seem to say that God values childlike ignorance and uses the foolish things of the world to confound the wise. In doing so, she will be hypocritically using the Bible as Evidence–the Testimony of God–in an attempt to give a Reason why she believes what she does as opposed to the opposite. If you try to point this out to her in a rational way, she will ignore you, because by her own account, proving the conclusion that she is being kind of hypocritical would need evidence, which she has already banished into the 7th level of Satan's crumbing apartment complex in the metaphysical version of the Bronx.
This is not the view of Faith and Reason that is in the Bible.
The Biblical view of Faith and Reason is that Faith is Belief in Action, propelled forward and supported by Evidence.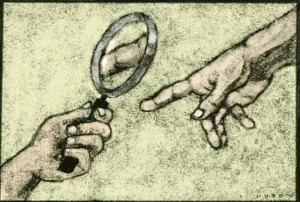 Here is one example, of many:
God appears to Moses (Perception is Evidence!), in a burning bush that is not consumed (Reason and Experience point rationally to a miracle being performed). Bushes normally burn up, and don't normally issue commands. Moses reasons that he can't be high on drugs.  He has no Memory doing drugs that conflicts with this other Evidence.
This is evidence for him to DO what he did. For Moses, Faith and Reason were friends.  And because Faith and Reason wre friends, Moses could obey God.  And by obeying God he gave the boldest command to the most powerful ruler in the ancient world: Let my people go!
---
5 Comments
A.T.
May 14th, 2012 at 2:52 pm

"Super Mario points"…great!

"…banished into the 7th level of Satan's crumbing apartment complex in the metaphysical version of the Bronx." Awesome!

Couldn't we also argue that, generally speaking, the scientific naturalist holds a mythological view of reason? A useful fiction of the enlightenment?

That is, not only is the popular understanding of the relationship between faith and reason wrong, but most popular conceptions of reason are also wrong(?)

L. James Everett, III.
May 17th, 2012 at 11:35 pm

Thank you AT
That's a really good point about naturalism view of Reason.

That is a good post topic!

Rachel
May 14th, 2012 at 7:36 pm

Good job on a subject that interests me: What is faith?

From a secular perspective, faith is often seen as a weak position that religious people fall back on when all else fails. Faith, in this view, is hope against hope: something known to be false, or at least extremely doubtful, but something that is wished for, or that one's community declares to be true.

This is not FAITH at all. It is some kind of mental game, and it is the straw man that is set up and ridiculed by the secular world that stands in ignorance and, at times, dread of the power of real faith.

Those that the tyrannical Nazi regime feared the most were those that could not be moved by offers of riches, pleasure, power or even safety. In other words, they feared those whose souls they could not dominate–those that knew who, and whose, they were, and what faith in their God constrained them to do. These were the heroes whose souls remained intact in an era when souls were cheap, sold for silence or a blind eye.