June 11th, 2012 by L. James Everett, III.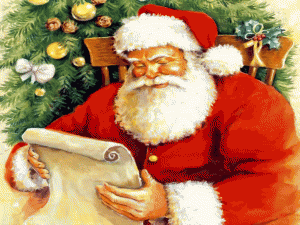 I've heard it said that we treat God like Santa Claus when we pray and we ask for things.
But what is the difference between Santa and God?
If you're an atheist, you might think: Not much of a difference at all, pal: They're both fake, human inventions to comfort us in times of naivety, ignorance, and fear.
But I believe atheism is incorrect. God does exist, whether we acknowledge that to ourselves, or not.
Us believers in God, we have our long drawn-up lists, and we ask God to give us the things that we want.
What kind of things? Well, you know, things that you want. Sometimes the sophisticated praying theist makes a distinction between needs and wants. The needs bucket is inflated beyond what any non-aristocratic and spoiled human living more than 100 years ago would think of as a need. But, nevertheless, we realize that clothes and food we need (although I myself could do without the clothes in some island circumstances), while having a nice home is a want.
But how nice of clothes do we need? Obviously, God would want you to wear True Religion skinny jeans, but beyond that? Do you really need the $25 Van Halen t-shirt?
How nice of food do we need? Sushi? Oranges? In The Adventures of Tom Sawyer, written in the 1870′s about ante-bellum Missouri,  apples were a rare and wonderful desert. Apples. Dude. Those better be some durn-good apples.
So, let's alter our question: Is asking God for our wants, big and small, treating God like Santa Claus?
No, and here's why.
God and Santa Claus are very, very different.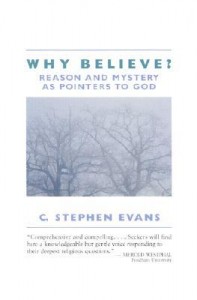 The famous existentialist Christian philosopher C. Stephen Evans makes this point brilliantly in his little book, Why Believe? Reason and Mystery as Pointers to God. If you don't own the book, check it out at the bookstore, or buy it at the library. If you don't have any bookstores, money, or libraries, ask God for it. Put them on your list of needs.
Evans, who teaches at Baylor University, says that Santa and God are about as different as can be.
Think about the concepts. The trick here is, you have to get the concept of God right. God is by definition the greatest conceivable being: Greater than which you or anyone else cannot conceive. Anything less is not God. How do I know that God is not the Geese? Um, because I can conceive of greater things than geese. Geese begin to exist, they can be shot and eaten for dinner, and although they can fly (which kicks butt, let's face it), they neither created the world, nor sustain it in existence, nor do they give any of the little pieces of crap they crap out, about you. Why would they, they don't know you.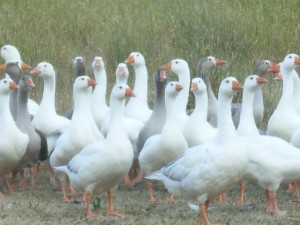 They don't have the capacity to know you. They didn't create you. They don't sustain you in existence.
But, God does.
God did not begin. God will not end. Is God a person? Well, is it greater to be a person, or a non-person? Would you rather be you, or an unconscious, impersonal slab of granite? It's greater to be a person than not, and since God is the Greatest Conceivable Being, therefore God must be personal. God is not some unconscious collection of molecules, like a slab of granite. Moreover, God knows stuff.
Is it greater to know every truth, or to only have partial knowledge of truth? It's pretty clear its better to know more than less. Is it greater to have some power, or to have all power? God is the greater of these choices. God knows everything. God is all powerful. Is it greater to care about justice somewhat, or to the max? Is it greater to be somewhat loving, but not, like, all out to the max, or is it greater to be a boundless lover? Fitting God's love and justice together, in the same being, is the cross of Christ. Take one of those two away, and you don't understand the historical event of the crucifixion of Jesus.
Okay, so God is personal. So is Santa.
But, here is the catch. Santa did not create the world a finite time ago, nor does Santa sustain the world in existence. Santa didn't take the penalty for your sins on the cross, out of love, and justice at the same time.
Now, this is the God we are dealing with. This God cares about progress. Your progress. His Creation's progress. This is the God you are praying to. A God boundless with love, justice, mercy, at the same time. A God you need and want.
We are needing and wanting creatures, designed that way.  God answers prayers partly by asking for your help with other people's needs and wants. Pray away.
---
10 Comments