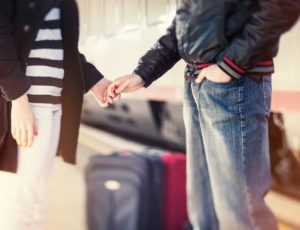 I'm single, and have been most of my life. Although I don't have a lot of experience with romantic relationships, I've definitely embraced the power of covenant friendships. Recently, I've been growing in friendship with a particular young man, "B".
Our families have known each other a long time, and although I'm a handful of years older than him, we've gotten along fine because of our siblings and church connections, etc. Although I'm not particularly thrown off by our age difference, the truth is it's presented some more unique hurdles. For example, at different times in our life, our friend group hasn't mingled so well because of maturity differences. Plus, I was technically his leader in ministry for a while, and generally just not in the same mental state as him.
Last year, the combination of him stepping into manhood, me leaving that particular leadership/ministry position, and spending a little more quality time together (in group settings) caused both of us to see how much we enjoy each other's company, and naturally our relationship developed further. I was cautiously enjoying this, however, I spent the majority of last year feeling a sense of wanting in our relationship. It just didn't seem like the "odds" were in our favor with our age differences and the timing of everything. I didn't want our relationship to be inappropriate in any way, plus he seemed content with his current friendships. I prayed about it a lot, and felt like I just needed to allow our relationship to grow steadily, but slowly. I felt that if our friendship was to ever become close, that "B" would have to be the one to initiate. To my surprise, he did eventually initiate!
Thus, we've been growing in friendship much more deeply, and at a quicker pace in the last number of months. Growing in friendship with "B" has been one of the most precious and pure experiences of my life! Although I wasn't looking or asking for it, I would have even said that it was taking its natural course toward something more romantic. Then I "accidentally" found out he'd taken initial steps toward pursuing another mutual friend of ours without telling me about it. I was so upset, I could barely handle it. My reaction to that news, however, did show me that I've definitely developed feelings for him. Basically, right when I was finally feeling safe to fully enjoy him and our deepening relationship, I suddenly have a new (major) hurdle I'm facing.
We've talked about it (his feelings for this other girl) some, although I haven't told him about my feelings for him. He just moved away for a short-term job which has given me space to process and move forward. The truth is, at this point, we do have a covenant relationship, and I want to stay friends. I guess I want wisdom and encouragement about how to move forward exactly. I don't want to sit around waiting for him (although I believe he's worth the wait!) if he's never going to see me as someone he can love. I want fortitude and strategies for how to take care of my emotions and still protect my connection with him. At the end of the day, I can see both of us being able to move forward with our lives, with spouses of our own, while remaining friends, but in the meantime it is all difficult for me to fully comprehend and process it all.
How can I wisely move forward as "just friends" and protect our covenant friendship if I want more?
This is my faith hurdle. –Sarah