I've come across some books you need to know about, places my soul stopped, places others who want to walk into more freedom will find some refreshing water.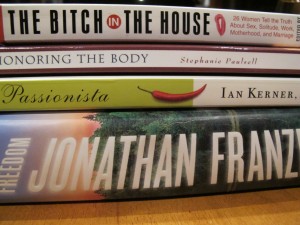 These titles were not sent to me seeking endorsement; I didn't get them for free. Rather, I bought to pore over them. Each deserve a full post and review, but I offer a shorter glimpse instead: one novel, one set of essays, one theology and one sex ed.
Some, I hope, will stop your life long enough to read and change.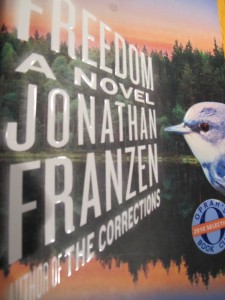 Freedom, worth reading? Yes.  But not for those who want quick and easy fixes. This is fiction at its best which we read (in case you need a reminder) because storytellers make the thick places thinner for us, so we can see through this dark glass more clearly so we can see the world around us.  I treasured Jonathan Franzen's ability to illustrate the sins of the fathers/mothers visiting on the 3rd and 4th generation.  It rang true and it hurt as well.  Like when he pegs denial in a family structure for three generations, or when Patty and Walter's marital strife begins to have "long-term toxicity . . . pooling in their marriage like the coal-sludge ponds in Appalachian valleys . . . once certain things had been said, how could they ever be forgotten again?" (333). Franzen pegs abuse (marital, familial, sexual, emotional) so accurately without being gratuitous. I could read it without feeling violated. For example, Patty's family reunions involve a grandfather who "liked to grab his oldest granddaughter around the belly and sit her down on his bouncing thigh and get God only knows what kind of little thrill from this; he was certainly not very respectful of Patty's physical boundaries" (33). Later when Patty is raped, but fails to cry out, we know why: her protests were never given ear before. We're not surprised and, yet still horrified when her parent's demand she lets it go. We see the pattern, we know where it began and we know what Patty will end up doing. And yet, she surprises us. Franzen operates within a belief that people are not whole, that we can choose to be more or less fully whole, more or less fully human.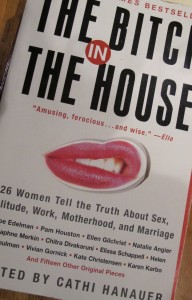 New York Times Bestseller, The Bitch in the House: 26 Women Tell the Truth about Sex, Solitude, Work, Motherhood and Marriage edited by Cathi Hanauer (who tips her hand for her love for real relationships by dedicating this to her husband), a collection of bold, funny, essays most Christian writing can't touch because of Hanauer's inclusion of ferocity, provocative waywardness, but in the end truth-telling. The title is a reflection on Virginia Woolf's commentary of The Angel in the House, who has no will or mind of her own.  I haven't found Christian books willing to blow the top off marriage, motherhood and sex like this. Authors with an intimidating list of accomplishments make up the dynamite troupe who spill throughout this book.  They talk about frustration with demanding company and their mothers, with their decision to marry or not to marry, to live with their lovers or to have affairs, to have children or remain child-free/less, the dearth of good girl friends and the changing meaning of "feminist." I both cheered and boo'd throughout, but I was impressed, undeniably impressed by the quality of writing.  One writes about her husband, "Here was a man I couldn't fool. I'd met my match" from "A Man in the Heart" by Hazel McClay (95).   Others I disagreed with, "I do not ever allow my husband to think that he fully knows me, that he has that access" from "Erotics 102: Staying Bad. Staying Married" by Cynthia Kling( p 131).  But I kept reading, for nuggets like when Kling later says she broke down and got married  "because it seemed much easier to become the wife of somebody and squish into his limelight than to try to decide what to do with my own life" (123).  Some grossly misunderstand Scripture though many authors claim Jewish roots. Many illustrated the work and motherhood Bermuda Triangle. Play the cards you've been dealt, one said, don't regret them. Or live between the two and play your bagpipes with the strength of both. If you feel alone with the stretch between work and mothering, or if you feel like women are catty, quiet or too submissive in the church and are looking for a few friends, tackle this one.  Don't miss "The Perfect Equality of Our Separate Chosen paths: Becoming a Mother. Or Not" and "The Fat Lady Sings."  There's a companion to it, The Bastard on the Couch in case you want a stocking stuffer.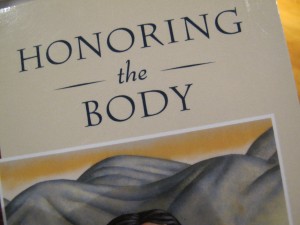 Theology of the Body: Meditations on a Christian Practice by Stephanie Paulsell.  Part of The Practices of Faith Series, this is the only book on these four I haven't finished.  Still, Paulsell won me over quickly by opening with Jane Kenyon's poetry "the long struggle to be at home in the body, this difficult friendship" (xiii). For introducing me to Kenyon, I will always be indebted to Paulsell, see Biscuit and The Shirt for a taste.  I'm only giving a sneak peak of this one as I want to do a full review here with Dr. Halee Scott, my reading companion for this one.  Paulsell's whole approach to honor, through bathing, nourishing, clothing, blessing, exerting and resting make me glad for books like this.  One line that zings with women like me is worth sharing immediately, "The integrity of the body is another point of resistance to violence and oppression.  In our culture, some bodies are constructed to be more relational than others.  Women socialized into being endlessly hospitable, endlessly welcoming are one example.  Although hospitality can be a powerful practice for the good, those whose bodily and psychic boundaries are too permeable can easily fall prey to those who would transgress that openness to inflict harm.  If an abused spouse understands herself only as a body in relation, the integrity of her body is vulnerable to repeated trespass." My version, cultures where women are not permitted to say no to guests visiting their homes are also cultures where women are raped and abused more often.  Paulsell's words help explain the angst in The Bitch in the House, even better, she's offering solutions.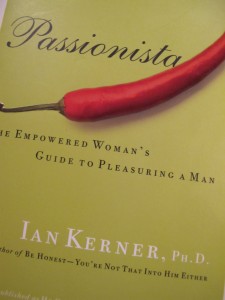 Ian Kerner has changed my "sexpectations." Passionista: The Empowered Woman's Guide to Pleasuring a Man (his new edition re-titled at Amazon to "He Comes Next")  is perhaps the best place to become a good lover without having to get kooky kinky or subject yourself to porn.  This is a book I do not entirely agree with (especially Ch 4), but a book for women who want to know techniques and philosophy to making their man very happy. Gifted to me by a Christian marriage therapist on a lark (Dale got the companion "She Comes First" at the same time–also highly recommended for male readers), tested and tried in her very successful marriage, I have to hang my hat on this easy to enjoy and apply manual on sex.  Kerner has given an accessible picture to how being good in bed is neither a role reserved for play bunnies, nor a one-size-fits-all job.  My favorite example came from observing that sex for men means making more than a hard-on. Good sex is about desire which means souls, not just bodies, engaged.  Good sex is as much about the safety and excitement, adventure and openness we can bring to our mate.  Kerner offers some easy to use (hugging until relaxed) and quite helpful tips on doing sex better (did you know men have three different types of erections?), but he also blows up the myth that erections are all a man needs or wants.  I'd like to add that Kerner's books have added some goodness to our home.
Next time on "books on my nightstand": Passionate Marriage, The Secret Wife of Louis XVIII, and I Don't Know How She Does it.
Photo credit: theologicalsquirrels.wordpress.com