"God, the Bible, and the Gay Christian" sign up form
The gay question has been on my mind for years. I have friends who are lesbian, gay, bi, intersexed and trans. I grew up with some of them. Others have found me through Soulation. I will meet some at the book table after speaking. They often wait until everyone else has left. And no wonder.
Exploring what the Bible says about gay Christians is one of the most volatile places in Christianity today. I've seen dangerous tactics and mud slinging on both sides. Not just from those we like to call "close-minded", but even from those who claim to be open-minded and tolerant. No matter you current view, we don't know how to talk about controversy, even the leaders among us, and so we have become afraid of bringing up the gay Christian question. Or we only discuss it with our tribe.
I've personally wondered where I can ask my questions without being judged by either side. Where can I hammer out my position on gay marriage with love, empathy, and integrity?
Christian fear has often won over Christian courage.
Five years ago, Dale and I wrote about the importance of talking with gay Christians in Coffee Shop Conversations (Zondervan, 2010). Because of these six pages, one famous evangelical speaker (whose names you'd recognized) refused to endorse our book. He told us, "I agree with you, I'd just lose too many donors if I endorsed you."
Two years ago, we suggested Christians have conversations without rushing to point out sin with lesbian and gay neighbors on Moody's Bible Radio program, Midday Connection. Two lesbians called in. We enjoyed a coffee shop style conversation with them. But, it was too much for several major radio stations who promptly dropped Midday Connection from their scheduling, the inevitable consequences for even touching on the gay Christian topic. Moody defended us, but also deleted the conversation from their archives. You can still hear it in our library here.
For the last two years, I've been asking key thinkers to weigh in on being gay and Christian, people who trust the Bible as the ultimate authority in their lives, people like Wesley Hill, a celibate gay evangelical professor and theologian, Candice Czubernat, a lesbian married, mother and Christian therapist. I was interested in hearing opposite sides of the spectrum. The interviews, many on video recording, are now cut and condensed and ready to share.
I'd like to invite you to join me for my eCourse "God, the Bible, and the Gay Christian" to learn the best sides of the arguments and develop your own position. You will hear from Bible believing pastors who disagree and still co-pastor together, like Kathy Escobar and Karl Wheeler of The Refuge in Denver, Colorado. You will hear from a mother and pastor who is raising a son in the south who doesn't fit gender norms. You will hear from seasoned evangelicals who have watched the church shift in how it responds to and loves gay Christians. You will hear from a same-sex attracted woman who is now in a straight marriage. Here's a 55 second video to give you a taste.
If reading in email, watch video here. Sign up here.
In teaching this eCourse, I will not be telling you what to think or how to vote, but I will be sharing my position, for the first time in years. If you're curious but also concerned that perhaps Soulation is going liberal (or too conservative) on this issue, I invite you to email us so I might personally put your concerns to rest (mail at soulation dot org).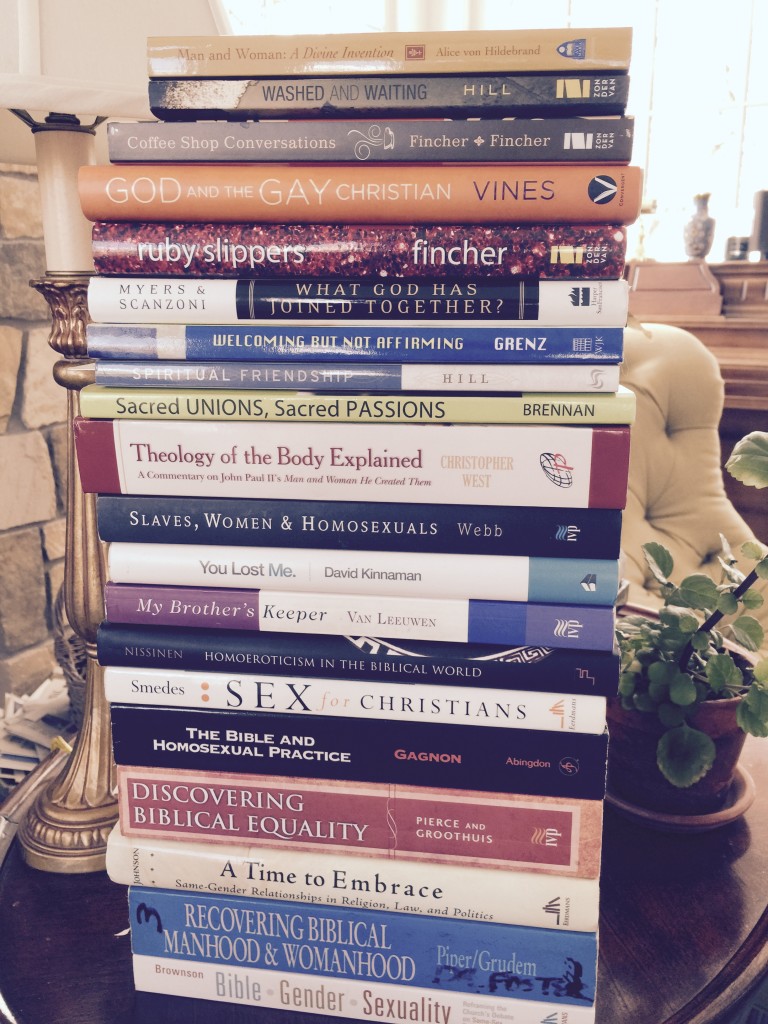 Together, we'll grow our own empathy and biblical faithfulness. We'll raise questions. We'll hear the best each argument has to offer and notice it's weaknesses as well. We will emerge with better tools to navigate the conversation and debate no matter what position you end up holding.
Who can join? Mothers, Fathers, Pastors, Teachers, Small Group and Youth Leaders. Single, Married, Celibate, Gay, Straight are invited to register. Anyone who follows Jesus and wants to find a safe place to talk about what it means to follow Jesus faithfully and be a gay Christians. Those on Side A (God blesses same sex marriage) and Side B (God reserves sexual intimacy for male/female marriage) are welcome (more on Side A and Side B). Those in the LGBT community welcome. Those who have no clue about how to even talk about the gay issue are welcome.  Our classroom will discuss in a private, confidential Facebook group.
What's the time commitment? You decide how much you want to invest. The curriculum will be sent to you via a 5-10 minute video each week. The classroom takes place in a private Facebook group where you can check in if and when you'd like to discuss. Discussion is optional.  I will lead each week's discussion. So if you have 5-10 min to watch a video each week, you can join this class.  No additional reading is required other than my intro to each week's topic, and suggestion of discussion questions. If you have fifteen-twenty minutes a week, you will be able to read the discussion prompt and if you choose, comment. The videos for each week will be made available from June 1 – August 31 on a private website.
What books or whose positions will this class cover? Here's a picture of some of what I've been reading the last few years in preparation for teaching this e-course. The rest are on my eReader. These books are NOT required reading, rather they are the background that will inform all our discussions as I interact with each of you. Any questions about these books, or the people writing them, will be welcome. Other scholarly sources and positions will also be welcome in our discussions.
How do I sign up? Register here. The cost is $59. Please share the video above with any friends or family. Freedom Builders graduate members and Soulation Partners may join at no additional cost. I'd love for you to sign up as a Member as your way to support our larger work while enjoying a free course. Partner sign up here.
I hope you'll take time to support a place where safety and spiritual growth are as highly held values as digging for truth. I look forward to what we will discover together.