Description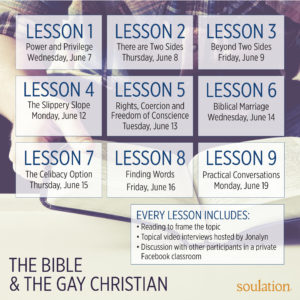 Listen to one of last year's participants describe how The Bible and the Gay Christian eCourse helped her navigate relationships with LGBT people in real time:
"It is one of the best learning experiences I've ever had. Not just the subject matter–it was fantastic and well organized–but the manner and care in how each view and perspective was presented. I recommend this course for any Christian who wants to go deeper than the "us vs. them" politics and encounter ways to care for real LGBT people in their families and churches as Jesus would."
Topics include:
Power and Privilege
Beyond Two Sides
Rights, Coercion, and Freedom of Conscience
Biblical Marriage
The Celibacy Option
And more…
Time Requirement:
15 day course
8 video lessons (15 minutes each) released every other day. You can watch them at any time after they're released until end of eCourse.
Optional private, daily group discussion. Personal input throughout the course from Jonalyn — the host for each interview!
A minimum of 10 participants is needed to run this eCourse with live group discussion. With fewer than 10 participants, this eCourse will run as an independent study.