The craze for Fifty Shades of Grey didn't pass me by. I covered the book's message at Christianity Today's Her.meneutics blog ("Is There Anything Redeeming About the 'Fifty Shades' Trilogy?") and explored S&M more deeply in the comments following the post "What's Wrong with S&M?"
I learned about the larger kink community of BDSM (a six-for-four acronym: Bondage, Discipline, Dominance, Submission, Sadism, and/or Masochism which together can involve activists such as "spanking, Master/slave role-playing, handcuffs, cages, rape fantasies, razor blades, or all kinds of other things." (The S&M Feminist: Best of Clarisse Thorn).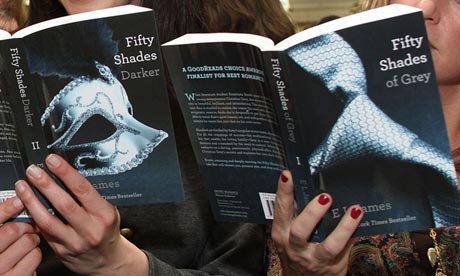 Perhaps you're wondering why I'm writing about such a worldly, edgy, torturous topic? Well, I must say it hasn't been all buttercups and roses. It's been a touch topic to learn about (thank you to those who've prayed for me).
A short explanation about why I'm covering BDSM can be found in Part 1 where you will also find a distinction between good and bad pain and why Christians should avoid the S&M part of BDSM. The best way to sum up this focus at RubySlippers is to say that Christians have had a long, strange relationship with pain.  We love and hate pain's power, we use it as proof of God's love or his hate, pain shows our faithfulness (persecutions) or our failure (God's face is turned away). Some of us see pain as a gift (more in Part 1). Some even pursue pain (fasting, vigils, flagellation, coal walks, beds of nails) as a way to grow our intimacy with God. It doesn't take much imagination to see the overlap here.
Some BDSMers use similar methods to increase intimacy.
In this Part 2, an ordained pastor, John Keller (not his real name), who works as an organizational leader for a Christian ministry shares his belief of how Christianity and BD/s (Bondage, Discipline, Domination) may work together. He will be using theological concepts and some Scripture to both illustrate and defend his position. I will both interview and challenge him. In this final part of our interview, John explains what he means by Dominance and Submission as sensual play and takes on my challenge that these manipulations of power and pain are neither artificial or against equality. My words will be bolded and underlined.
A word to those reading and commenting:
Trigger alert: John will be explaining with explicit detail what kinds of activities he means when he says BD. I look forward to your kindness and respect that you demonstrate to all those who present their arguments at RubySlippers.
John, can you be more specific and also explain what you believe are the benefits of BD/s?
May I be explicit?
Imagine the following scenario, which will help draw out the goal and purpose of BD/s. A husband, who's a confident and healthy alpha in real life, carrying many leadership responsibilities, comes home to his loving wife, who awaits him and teasingly demands him to submit to her lead and prowess to become her 'obedient slave' for the night. He willingly surrenders to her lead, obediently and excitedly following her instructions to please her in the ways she desires. That may include anything from a sensual back rub to oral sex to intercourse and she may playfully discipline him (which could include mild pain such as light spanking, genital slapping, tease and denial or making him do a household chore naked) if he doesn't fulfill her desires to her specifications and liking.
This in itself could become a delightful source of sexually charged playfulness for the couple… Among other things she later also blindfolds, shackles and puts him into bondage and now he is fully exposed, fully in her hands – his body no longer 'belonging to him but to her'. As he lays there 'helpless and surrendered', he fully entrusts himself to her guidance and care and she honors that trust, as she caresses and uses his body, bringing pleasure not only to her, but also to him. To him (and this is not uncommon for many alphas), he cherishes the ability to fully let go of control, to relax and to be hers as she pleases. It also signals to him, as he lays there fully exposed, that she really wants him, loves him, and cherishes him, including his body, his manhood, his masculinity. Of course, roles could be reversed and the dominant person in this scenario could be the husband asking his wife to surrender to him for a night of sexual ecstasy and connection. Or the couple, if they feel so inclined, could switch roles. It all depends on their preferences and what makes them feel comfortable and safe.
Much of this doesn't seem to be the typical BDSM activities that many would associate with the dungeons, whips, chains, torture (can I say horror?) and body damage that happens in BDSM encounters. What are the goals and benefits of the (soft?) BD/s scenario you've described?
It not only creates a heightened sense of erotic chemistry and sexual ecstasy, it also cements the mental, emotional and spiritual bond between the two. There is mutuality in every bit of this scenario. There is give and take. There is surrender and acceptance. There is trust and care. There is loving submission and respectful leadership that honors such submission. And in that interplay, a deeper spiritual connectedness can result between the two, as they allow themselves to 'be more fully known' – image-bearers of a playful, surrendered, loving, accepting, imaginative, creative, honoring, just, respectful and guiding/leading God. For me, then, I don't see how sensual BD/s in such a form would run counter to any biblical injunction. To the contrary, I would say it enhances the sexual, spiritual, mental and emotional connection of a couple open and willing to engage in BD/s by allowing husband and wife to surrender to each other and give their bodies, minds and spirits even more fully to one another, as Christ did for his bride (1 Corinthians 7 and Ephesians 5).
Ok – while I can see that this scenario could create a heightened sense of erotic chemistry and sexual ecstasy, I'm still not convinced that it also could cement a healthy and God-honoring bond between both marital partners. Here's the first of my push-backs to what you're expressing: I don't think that introducing artificial pain in sex is good. While I can appreciate the concept of the 'gift of pain' in Yancey and Brand's book (see previous post for the "gift of pain" argument), don't they also argue that "good" pain indicates to us that something is wrong and should be redressed. This is quite different from intentionally embracing and seeking pain for the sake of sexual ecstasy. Pain, in this latter context, seems to be more about one's own sexual fulfillment and getting a narcotics-like adrenaline rush, than about creating greater connectedness in a couple. And that makes me wonder how healthy it really is to "manufacture and artificially" introduce pain into sex in a BD/s scenario?
Let me zero in on a thought I expressed earlier in order to address your concern. I cited Lewis B. Smedes (see more here), who notes that pain and pleasure are often only separated by a knife's edge. What one person experiences as unpleasant pain, another may experience as sexually arousing. So for some "mild pain" might include light spanking, scratching, biting and pinching that won't leave permanent marks but could leave marks during the act itself. It could also include light pain from nipping/twisting your nipples, genital bondage (including bondage of breasts), genital slapping, mild genital torture or squeezing of the testicles and bondage, and rough sex in general. All this heightens their sense of sexual arousal. For others, such acts would cause lots of unpleasant pain instead. The same way a sensual backrub may heighten the arousal of person X but be unpleasant to person Y given his/her sensitive back muscles.
Interestingly, there are valid biological reasons why mild pain can be sexually arousing and thus welcomed by one or both partners. I don't seem to find scriptural or scientific reason that would make such practices of mild pain degrading, so long as both partners agree to it and find pleasure in it. However, if the pain inflicted becomes excessive and physically and psychologically abusive, this moves into S&M in its literal sense, and here I would wholeheartedly agree with you: such "artificially introduced pain" has indeed the greatest potential to become degrading, humiliating, damaging and abusive. And humiliation and abuse (even consensual), in biblical theology, amounts to something that undermines the dignified equality of one of God's image-bearers. Thus it is not God-honoring. So I affirm your concern.
It is helpful to hear you find these hard limits of humiliation and abuse (even consensual) within the BDSM practices. Thank you for articulating them.  
I have a question for you: Would you agree that if mild pain feels sexually arousing, that then the notion of 'manufacturing' or 'artificially introducing pain' would seem like an incorrect choice of words? In fact, do couples that have embraced consensual BD/s really seek to introduce additional pain into sex, as you assume in your concern? Is it not rather that they embrace mild pain because it's not really 'painful pain' to them at all, but 'delightful' and 'arousing' instead – like in the example of eating spicy food?
So are you saying mild pain in sex is like mild pain in spicy foods? Some people like that pain and we shouldn't keep them from it?
I'd go even further. Could we even call it 'pain', particularly when research shows that sexually arousing pain and sexually arousing pleasure often become indistinguishable to us during sex, since both release endorphins and serotonin in our brain? I don't necessarily think we could, unless we'd also be willing to prohibit people from eating spicy foods under the guise that they're manufacturing and artificially introducing pain into their cuisine (another endorphin releaser by the way)!
But let me take things even a step further. Endorphin production is significantly increased during strenuous exercise. It is also significantly increased during sexual activity. In the first case it acts as a natural painkiller that numbs the discomfort that we feel from the exercise. Some people call that the "runner's high" because it allows the person to press on and reach a natural state of happiness and a real sense of accomplishment.
In the case of sex, something similar can happen. With all the sensory input (touching, kissing, arousing and stimulating), our senses get a bit overwhelmed, which in turn can increase our pain thresholds. Something that ordinarily would hurt now doesn't. For example, if your spouse smacks your butt with their hand or bites your nipple, it may not be painful at all but feel good or "warm" instead. This extra stimulation of the butt or nipple (both of which you'd normally not even feel during sex) thus helps to heighten, sharpen and intensify the overall pleasure you're experiencing, as more endorphins are released. Don't try the same thing outside of a sexually charged scenario, however, or you may get smacked back!
But if you like being smacked, then…? Just kidding. I do understand the runner's high, you can handle a lot more when you feel that endorphin juice in your body.  But when I see the body scarring and damage that happens to some who practice BD/s I sense that some sensual play may be pushing us to places that actually rob us of God-given limits.
All this doesn't mean we cannot come up with healthy guidelines that affirm the dignity and humanity of both sexual partners… We can! If the sexual play becomes more about pain than pleasure, for example, or if it diminishes the value of one's partner, we move once again into S&M territory – which I would agree is hard to biblically affirm.
To your other question whether this all is not more about getting a narcotics-like adrenaline rush, than about creating greater connectedness in a couple, I'd respond: If I know I can do something that would heighten my spouse's pleasure during sex, allowing him or her to experience things with me they've fantasized about, why would I withhold it if they desire it? Particularly if I feel comfortable with this activity and it respected their dignity and honored them as persons… In fact, loving my spouse in this way would cement our intimate bond more since it shows my safety with their fantasies. Wouldn't you agree?
I'm not sure… I still wonder if the trust and intimacy that results from the kind of BD/s you describe here is not rather illegitimately bought, similar to the  'intimacy' through hazing?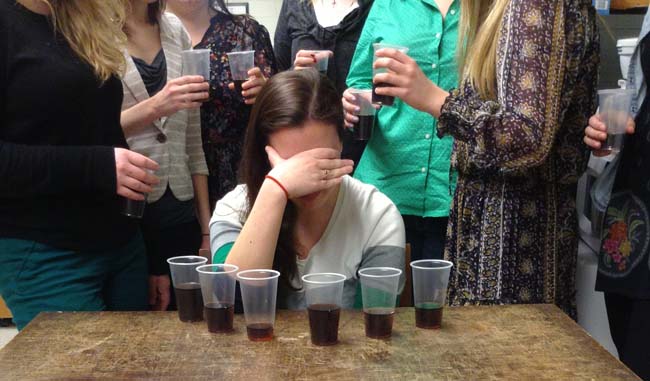 I'll gently push back here. What you have in a hazing is proving yourself to your frat brothers that you're worthy of being part of their club. It's showing that you can take their humiliation without allowing it to get to you. It's proving that you're 'da man'. Once you've done that you're allowed to be part of the 'intimate circle'. That's very, very different from the kind of BD/s in a marital relationship that I'm describing. In contrast to the frat brothers, there's nothing to prove here. It's not about stoically taking your spouse's humiliation. You're worth is firmly established. You're respected by your spouse. You already have built intimacy. You don't need to buy anything. All you're doing is including BD/s as another way to experience and deepen your sexual intimacy. It's simply another expression of the playfulness of a couple's marital love – fully and intensely giving ones bodies and minds to one another. Not more. Not less. Using Josef Pieper's definition of love which you cite in one of your articles: "Insofar as I am able and it is appropriate I will contribute to finding your happiness/flourishing" and vice-versa. Once again, I'm talking about the kind of BD/s that is always safe, sane and consensual, even when it gets intense. Otherwise it turns into being sadistic and masochistic and there I would, once more, agree that that oversteps scriptural injunctions. Finally, it's not for everybody, the same way spicy food is not for everyone.
I do love that Pieper quote, but I'm still not convinced. Particularly when it comes to the "appropriateness" of bondage or domination and submission. Even within the kind of respectful and trusting marital relationship you describe, doesn't bondage or D/s cement the inequality of the marriage partners with one partner bound and completely controlled by their spouse? Doesn't bondage or a top/bottom dynamic ipso facto create a power differential that skews the God-given equality of the spouses and instead mimics the fallen world of dominion-taking over a free creature? Therefore, how can BD/s be an appropriate demonstration of a love relationship between two equals?  
It's absolutely reasonable to bring up this concern. Because you're correct in pointing out that an essential component in sensual BD/s is not the pain or bondage itself, but the unbalanced power relationship that is established through role-playing and the knowledge that one person has complete control over the other, deciding what that person will hear, do, taste, touch, smell and feel during the BD/s scene.
Full disclosure before I continue: As you do, I fully believe in the equality of both marriage partners. That means I hold to an egalitarian and not a complementarian point of view. So what do I do theologically and philosophically with the apparent dilemma you're raising?
Let me diverge from the practice of BD/s for a moment in order to address your valid concern. It starts with how you view and define love and power. No easy feat, of course. Let's say your view of power is like Lord Acton's who pronounced that 'power corrupts and absolute power corrupts absolutely', and that exercising 'power over' inevitably means 'dominion-taking'. If you believe as Lord Acton, then I can easily follow your argument that BD/s, when all is said and done, always mimics the fallen world of 'dominion-taking'. Why? Because power and love, in your definition, always remain in a delicate tension with one another, a tension that we humans seldom know how to healthily navigate. Hence – BD/s can easily become a way of unhealthy 'dominion-taking' of one's spouse.
Here's the caveat. I think such a definition is wrong, both philosophically and theologically. Because you can define the connection between love and power quite differently and believe that they are intrinsically connected and not just two distinct sides of the same coin. This was best articulated by Martin Luther King's succinct analogy that 'power without love is brutal, and love without power is sentimental'. Based on this definition, I would have a harder time following your argument. Why? Because the act of bondage – which would represent an 'exercising power over a willing partner' would not inevitably have to be seen as 'dominion-taking', since the one exercising 'power over' would not necessarily do this outside of the realm of love, but as part of a mutually empowering love. The powerful love in this BD/s scenario, then, expressing itself in the form of surrender and submission on the one hand, and care, guidance and leadership on the other hand, would mutually reinforce and deepen the strong bonds that exist between the marriage partners.
Both love and power proceed from God and are good in and of themselves. Therefore true, godly power cannot exist outside the realm of love and true, godly love cannot exist outside the realm of power (hence M.L. King's insight). Of course, every day we see all kinds of distorted and perverted forms of power and love, forms that had their origin in God, but then turned bad. But that still doesn't give Lord Acton the higher theological ground. In my work among people in poverty I have often observed that the inverse of Acton's statement is as true, namely that 'lack of power also corrupts and lack of absolute power corrupts absolutely'. In order to be healthy human beings, we need to be both loved and able to exercise power. Including in our relationships.
I think there may be another option besides stripping power from love (Acton) or the irrevocable wedding of power with love. Love is a type of power, I believe, and yet it seems to be a power that turns the might of dominion on its head. Love in scripture often means a laying down of life, or giving up power. Love involves ceding strength for the good of another. I am still having trouble saying that love might actually mean taking power over someone, tying someone up to control them (even if they want this).
Could you leave us with a few of your concerns for any Christian practitioners of BD?
Let me name my two greatest concerns.
For starters, BD/s is definitively not for everyone. People who carry deep and unresolved psychological pain stemming from abuse, trauma or a less developed sense of self, may become 'messed up' even more if they engage in BD/s play. For instance, those engaging in BD/s for the sake of pain or humiliation (not for the sake of connecting with their spouse to playfully create new intimate experiences) cease to be good candidates for BD/s, since their desire to experience pain for pain's sake, points to a deeper unresolved wound. Roy Baumeister, professor of psychology at Florida State University actually says that for some of these "pain seekers" it's about "escaping yourself". In experiencing physical and psychological pain, they find a way to transcend that pain and it becomes a way for them to escape their current reality. Of course that's not biblical and engaging in BD/s in such circumstances will do more harm, since it cements certain unhealthy coping mechanisms.
Those who get a kick out of controlling and overpowering others should stay away from BD/s, because for them in the end is not about mutual pleasure and building intimacy with one's spouse, but about a thrill-seeking power-trip.
Others, who seek to engage in BD/s only for the heightened sense of sexual ecstasy it creates, miss the purpose of BD/s and could rightfully be accused of selfishly seeking a chemical rush for themselves, instead of creating an intimacy-enhancing experience with their spouse. People who have ongoing issues with authority, problems with anger management, difficulties with trust or emotionally unstable etc. may also see some of their underlying emotional issues triggered or heightened during BD/s play – which then can create an unsafe and unloving environment for their partner and for themselves. In short, some people shouldn't get even a mile close to BD/s, since their past has shaped their experience of pain and understanding of power relations in such a way that engaging in BD/s would only trigger issues that would be unbecoming if not damaging to them.
That narrows the possibilities a bit. Who doesn't struggle with trust?  And how can you know you're over your "issues with authority"? But maybe I'll save these for the comments. What is your final concern?
BD/s can become a fetish for people. A 'fetish' within sex can be defined as something that you absolutely need to experience in order to be sexually aroused and pleasured. Without it, you remain sexually unsatisfied. So, if BD/s becomes the one and only scenario a couple can engage in, in order to find sexual fulfillment, they not only limit themselves in their sexual expression, but BD/s may actually come to unhealthily control and enslave them. So if this becomes the only way for them to relate sexually, then the BD/s in their relationship is in danger of becoming a fetish – a substitute for a wholesome sexual relationship. That, doubtlessly, would go against Scriptural injunctions (1 Cor. 6:12), and could probably point to a deeper relational problem within the marital relationship.
Of course, BD/s is not the only sexual expression at risk of becoming a fetish. 'Victorian love-making', for example, which confines itself to the missionary position exercised in the dark, has equally the potential to become distorted and a substitute for a wholesome sexual relationship. If that's all there is to the sexual relationship (in either case), the couple cheats itself of a wide range of other ways to build marital intimacy through physical love-making.
At the risk of sounding repetitive, BD/s should only be engaged in by a couple who share deep trust and where both are interested to grow, expand and deepen the ways they can build shared sexual and emotional intimacy. It will take lots of communication, understanding and 'letting ourselves be fully known' to practice BD/s healthily. But isn't that exactly what can contribute to bringing a couple closer together – in a way that delights and honors God?
John, thank you for broaching this subject of BDSM at RubySlippers. You've given me much more (spicy?) food for thought.